My significant other and I have a healthy appetite for one another. In fact, I'd say before life got so busy, we might have been considered over indulgers, spending hours at a time romping around in bed together.
Busy lives can often change the amount of time a couple has to devote between the sheets, but it doesn't mean that your relationship has to lose its luster.  Although it sometimes feels like I barely have time to take a shower, it's easy to squeeze in some play time with the one I love as long as I remember that it's quality not quantity that counts.  Speaking of showers:
5. Be an environmentalist and save water!
Who says getting ready for work can't be sexy? Try waking up a little early and hopping in the shower together for some early bird action. By steaming up the bathroom with more than just hot water, you start your day off on a fun and sexy note.
4.  Talk Dirty to Me
Sometimes work or family requires that you have to travel, often without your significant other. After a long hard day, unwind a little by calling your significant other to recap your day and maybe mention what you'd like to be doing instead with him right at that moment. Cliché'? Maybe. But a little bit of sexy phone talking never hurt anyone…in fact, quite the opposite.  After a few days of being a away from each other and sexy phone calls each night, the anticipation will be built so high you won't be able to keep your hands off one another. 
3. Try an Afternoon Delight
Lunch hours aren't just for satisfying your appetite for food.  If you find yourselves with time in between meetings or running errands, instead of stopping to have that cup of joe at Starbucks, meet up at home and have a little playtime of your own.
2. Cop a Feel When Nobody's Watching
Remember the days trying to sneak in make out sessions and quick kisses before your parents came home? Feel like a teenager again and relive the exhilaration of almost getting caught the next the in-laws or neighbors come over for dinner.  Sneak away around the corner in the hallway and plant a good one on your significant other…if you're feeling exceptionally frisky add a little squeeze as well.
1. Hit the Road Jack
Sometimes you just have to get away. As difficult as it might be to find time, it is important that every now and then you and the one you love get some alone time.  In the best of worlds, you'd get away for a steamy overnight at a hotel (even if it's only minutes from your house!), but even just a date night out can make all the difference in keeping yourselves on the same page.
It's easy to get caught up in the daily grind, but by remembering the little things that keep passion alive, you can be busy and still get busy.
Source: AphroditesNightstand.com
Tweet
Last week the Lifetime network premiered its new series "The Client List" to
impressive ratings.  Coming in at 2.8 million viewers, according to Nielsen Ratings, it
 quickly became the networks most watched series launch since 2009.  Why such a big launch on a network mostly known for made for TV movies? It could be an off-shoot of the 2010 movie of the same name with returning fans. It could be Jennifer Love Hewett's "Ghost Whisperer" fan base, who was left high and dry when the series was cancelled, rushed to support her latest venture. Or it might just be that a large majority of the women out there driving the kiddie car pool have hidden desires that have nothing to do with the school bake sale.
The new steamy series, which marks a bit of a risk for Lifetime, follows a woman, played by Hewitt, who has been left by her husband. Finding herself swallowed up in bills and unable to support her two children, she takes a job as a masseuse at a day spa to make ends meet. Soon enough, she discovers that this seemingly normal spa offers services that are more erotic than therapeutic.  Desperate to stay afloat, Hewitt's character delves into this world of lingerie laden sensual massages.
It's no secret that sex sells.  No matter if it's in advertising, entertainment, or just getting someone to buy you a drink at the local bar, sexy goes a long way to getting noticed.  The big seller with "The Client List" is that it offers a steamy, almost naughty, premise, without the viewer, a.k.a., the host of curious women out there, feeling as though they are watching smut. No matter how ordinary a woman looks on the outside, you can guarantee that there is most likely an inner tiger dying to get out. Most of these feisty felines will never see any actual play, which is why so many woman, giggling and whispering sit down to watch a series like the "The Client List" where they can fantasize without feeling like they just popped in porn.
"The Client List" isn't, of course, the first series to offer a sexy premise to the viewing public. Shows like "Sex in the City" and "Nip / Tuck" have been pushing the envelope for years with great amounts of success. The difference between these shows and the new Lifetime series is that they put the sexuality out there in a big way.  Adults watching these shows needed to be weary of their children even walking through the room at certain points, whereas "The Client List" offers the tamed down version for those a little bit more shy about partaking in a slightly more sexy television programming.
In the end, it's likely that "The Client List" will see a decent amount of success because it does offer a middle ground for viewers.  The show itself offers good story lines and Jennifer Love Hewitt is charming as the single mom leading a double life. So those who decide to curiously tune in Sundays at 10:00pm will not only be watching for the sensual themes, but for quality programming as well.  Looks like a happy ending, after all…no pun intended.
Image via: yahoo.com
Tweet
Post with 1 note
Eating healthy is something many of us strive to do on a regular basis. Wives have been trying to find appealing ways to sneak vegetables into their husband's dinners for ages.  If they were to take a page from Lisa Edelstein's book, I would factor a guess that husbands everywhere would be demanding salad.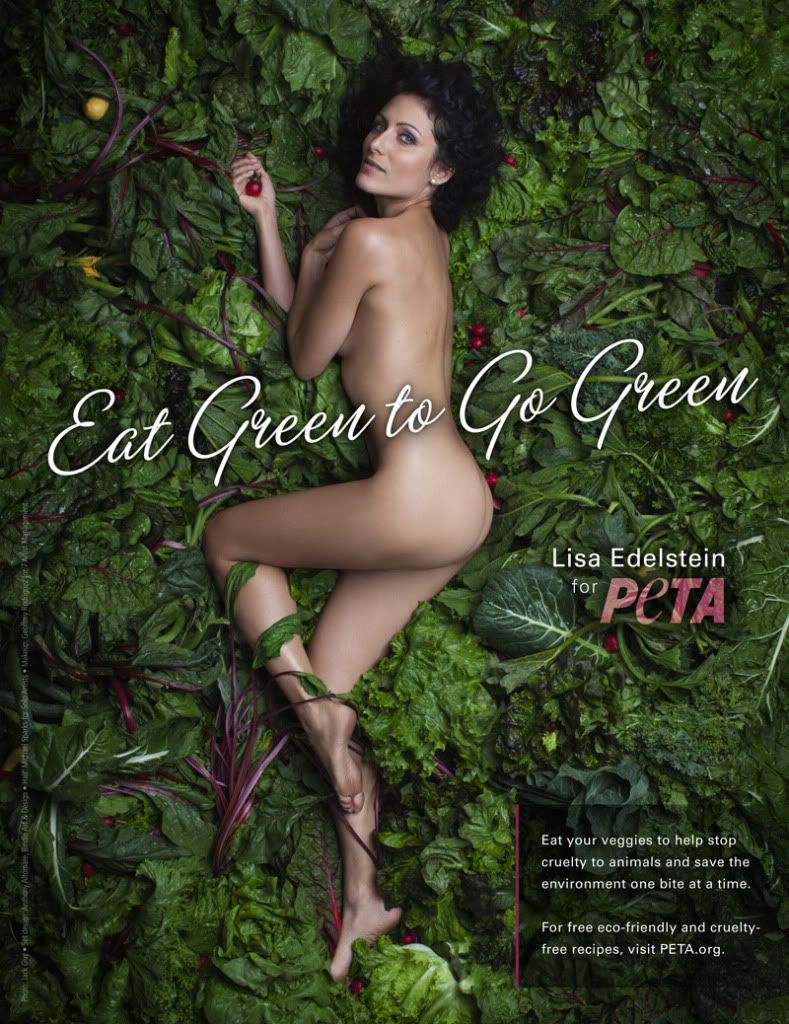 Recently, the "House" star posed for a PETA campaign in which she promoted veganism.  So, what is it that has so many men drooling over cabbage? Edelstein's ad, which is entitled, "Eat Green to Go Green," features her nude on a bed of leafy greens such as kale.  The erotic campaign marks one in a long line of stars tossing clothes aside to take a stance against issues involving animal cruelty.
Edelstein, who has been a vegan since age 15, stated that she had been hoping to participate in an ad promoting veganism for quite some time.  Besides her desire to steer clear of animal based products, she also wanted to inform the public about the environmental ramifications of a country that so heavily consumes meat. She recently told Prevention Magazine, "The cattle industry-besides the fact there are a lot of cruel things happening-the manure is extremely toxic."
One thing's for sure.  If this campaign photo doesn't change the minds of hungry men everywhere, nothing will.
Image via:  PETA.org
Tweet